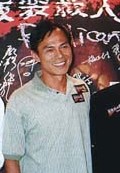 Jusqu'alors quasi inconnu du grand public occidental, c'est en 1987 que Ringo Lam explose véritablement avec la sortie d'une bombe ayant pour titre
City on Fire
. Auparavant, ses quelques films (
Esprit d'amour
,
Rien ne sert de mourir
…) ne sont que peu vus. Idolâtré notamment par Quentin Tarantino (dont le
Reservoir Dogs
est un quasi remake),
City on Fire
lance définitivement la carrière de Lam, qui poursuit avec
Prison on Fire
1 et 2,
Guerres de l'ombre
, et surtout
Full Contact
(qui n'a, malgré son titre, aucun rapport avec le film de Van Damme). En 1992, il coréalise avec Tsui Hark
Double Dragon
, véritable véhicule pour Jackie Chan. C'est en 1996 qu'il est approché par Jean-Claude Van Damme pour réaliser l'excellent
Risque maximum
. Les critiques sont élogieuses, et les deux compères s'entendent si bien qu'ils remettent le couvert pour
Replicant
en 2001, et
In Hell
en 2003. Malheureusement, Ringo Lam est lourdé du tournage de
Wake of Death
, et il ne réalisera jamais
The Monk
, projet enterré qu'il décrivait pourtant comme le plus grand film d'arts martiaux jamais tourné. Il participe en 2007 à l'anthologie de trois courts-métrages
Triangle
, aux côtés de Johnny To et Tsui Hark.